LABELS
A&R Director & Project Manager
Tishawn Marie has years of expertise in discovering talent; developing artists; & exposing their talents to the public, media, & industry execs with her due diligence & seen substance of everything that she is achieving on the North America Eastern Shore. She has the ability to give artists an opportunity to collaborate with the mainstream industry sector through her high profile connections with good relationships that she starts & maintains. Her efforts in creating awareness by persistent promotional grind on and off line in order to ensure branding identity exposure is actively executed through various channels.
Business Development Consultant
Tishawn Marie has an entrepreneurial spirit with the training & experience necessary to assist you in succeeding with your company. To expand her knowledge & keep up with what is new in the field of marketing, she obtained her Professional Marketing Coaching Master Certification. Ms. Proctor is honored to be a part of Blue Pie and together it will be a powerful team that is well respected and known for the effective efforts on behalf of the artists & labels represented.
MANAGEMENT COMPANY
Product Management
Tishawn Marie is the Product Manager for GMUSIC GROUP with offices located in New York, Los Angeles, and London. 
Who Are one of many essential prime employees surrounding his new single?
We're his Management Advisor by way of GPI, and the only is marketed, manufactured, and distributed via GMUSIC, an organization powered via a completely owned subsidiary of Sony Tune Leisure. My personnel under GMUSIC incorporates Tishawn Marie, Product Supervisor  and Belinda Foster, Label Publicist. The Single was as soon as launched by his company, DH Leisure.
INDIEPENDENT ARTISTS
Publicist
Celestial Caring Enterprises designed L-Smooth's Artist Website.
Celestial Caring Enterprises  secured the following Media Placements for L-Smooth online & physical Newspaper Article by  Oklahoma Gazette.
Celestial Caring Enterprises launched a Campaign to help raise funds for Demarion Pittman's Medical Fund.  CCE secured a Special TV placement on the spot with NBC News 4 KFOR-TV News  Reporter on the evening news broadcast. CCE raised $3,000.00 towards Demarion's Go Fund Campaign.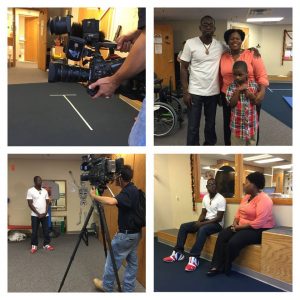 Celestial Caring Enterprises secured a Special Guest Online Radio Show with Hotline Radio. DJ Mike Styles Heavy Rotation Mixshow with Special Guest Hip Hop Artist L-Smooth on HOTLINE RADIO (@hmg247)
DaGrahynd Radio
Atlanta, Georiga
Celestial Caring Enterprises launched a 4 Week Radio Airplay Campaign and secured the following stations for the following single released:
Radio Airplay for "Pillow Cases featuring Shylah Vaughn"
Station Location
KVSP Power 103.5 FM Oklahoma City, OK
KJamz 105.3 FM Tulsa, OK
92.9 The Mix Hartford, CT
Dominion Global Radio Houston, TX
KTMR-FM True Music Radio Charlotte, NC
Power 99 Jamz Houston, TX
V-100 FM Richmond, VA
WILD 98 Dallas, TX
HOT 102 Jamz Nashville, YN
HOT 104 Atlanta, GA
IUMM Radio Cedar Rapids, IA
KDOM Tampa, FL
REX EM Los Angeles, CA
STAR 95.7 FM San Francisco, CA
WVIB VIBE 106 Birmingham, AL
Total Spins – 8,332+
Celestial Caring Enterprises created L-Smooth's Press Kit.
Celestial Caring Enterprises wrote L-Smooth's BIO.
At the All Star Music Awards in Soho, New York on November 30, 2014, I actually had two clients, XXXotic Mami presented by Xtreme 104 FM and sponsored by Pivot Records of New York and L-Smooth from Oklahoma. Both clients received online placement with HypeFresh.  This was also the first time that I met both of my clients in person.  I also had Too Short's main man, Co-Blooded the Great with his videographer/photographer with us.  I was trying to connect the West Coast with the East Coast and introduced Too Short's, "All City Coast to Coast" Compilation that I have been coordinating since 2013.  I had the video drop played on the projector screen.         Here is the Media Advisory for the All Star Music Awards in New York.  Here is the Event Flyer.